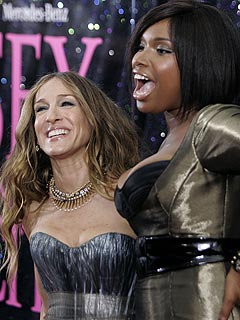 Sex And The City's New York premiere on Tuesday, has prompted a mean battle between the event's organizers, Radio City Music Hall and New Line Cinema. Fans were furious after discovering 8,000 tickets were handed out for the 6,000 capacity venue, and entry was granted on a first come, first served basis. Many fans waited all day to just get into the event and were turned away. But head bosses at the city's famous Radio City Music Hall and movie studio New Line Cinema are keen to blame each other for the mishap. A source tells
The New York Post,
"The movie studio gave out way more promotional tickets than could fit in the orchestra. Radio City managers told the New Line people, 'You can solve this by opening up the mezzanines, which have 2,700 more seats' - but they wouldn't do it." However, New Line Cinema executives are quick to disagree: "It was Radio City Music Hall making that decision. They took control of the fan line. They turned the fans away." After the venue's 6,000-person capacity was filled, 500 ticket holders were escorted to a local theatre for viewing as the remainder were given vouchers to see the film for free when it opens to the public on Friday.
Editors Note: I was having lunch with some Public Relations bigwig the other day. He had tickets to The Radio City event but not to the after party at MOMA. He put a add on Craigs List for tickets. Someone called him and said he had many tickets. He wanted 10 thousand each. Now, who would have so many tickets? Publicity people? Someone from New Line? HBO? Just asking. Seems someone inside had tickets to sell. Needless, I could have gone for free, but after all these years, I hate these events.