RAPPER FABOLOUS ARRESTED AFTER BEING SHOT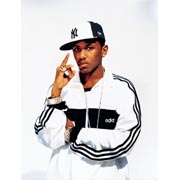 The hit-making rapper known as Fabolous, whose legal name is John Jackson, is facing weapons charges after being shot as he left hip-hop impresario Sean "P. Diddy" Combs' restaurant Tuesday. Jackson, 28, was wounded in the thigh at 12:30 a.m. as he stood in a parking garage outside Justin's, Combs' bistro. The rapper's entourage, Kevin Bass, 18; Percell German, 23; and Rascharm Davis, 29 -- all of Brooklyn, New York -- apparently helped the injured Jackson into a 2005 Dodge Magnum. Police said the car ran a red light, and officers who stopped the car discovered two loaded guns inside. Both weapons were unlicensed. All four men were arrested and charged with criminal possession of a weapon and criminal possession of a defaced firearm, police said. The rapper is in police custody and in stable condition at Bellevue Hospital.
Police are seeking Jackson's assailant.