Friday, June 07, 2013
Vince Vaughn
Vince Vaughn visited The Late Show with David Letterman in New York City, the other day.


Tuesday, May 22, 2012
****
TIMES SQUARE GOSSIP
'LIFESTYLE'
****
Shea Vaughn
Vince Vaughn
If you don't wake up every morning eager to see what gifts the day has to offer, Shea Vaughn has a few words for you. She is the founder of the SheaNetics® concept, a fresh and thorough approach to wellness, exercise and mind-body health. "SheaNetics takes the benefits of fitness one step further," she says. "It's about uniting the mind and body to reach your goals." In her new book Breakthrough – The Five Living Principles to Defeat Stress, Look Great and Find Total Well Being (HCI), she tells the story of the mental and emotional sides of SheaNetics® and the inspiration and answers to living life on your terms and living it well. This doctor-endorsed practice reflects Vaughn's east-meets-west life philosophy and has found universal appeal and application; placing her on the leading edge of the expanding interest in holistic lifestyle thinking and the positive effects it creates for individuals and corporations alike.
In her book, Shea shares how The 5 Living Principles of Well-Being lie at the heart of SheaNetics® and are powerful tools used in individual coaching and corporate lectures on how to create meaningful and productive results. She also explains how the exercise portion of SheaNetics® is an inspiring and time-saving blend of many respected formats for a creative and effective total body experience – strength, flexibility, body-sculpting and stress relief in one.
Breakthrough provides great life lessons and simple recipes for well-being including Shea's 5-Day Breakthrough Boost. "All together it's an easy and effective way to jumpstart your journey to a healthy lifestyle, defeat stress, look great and find total well-being," Vaughn explains.
Shea Vaughn is a national mind-body expert, master trainer and presenter, author, wellness coach and a recognized spokeswoman for helping others create individual and business well-being. Vaughn is also the founder and CEO of SheaNetics®, the revolutionary wellness and exercise lifestyle practice that delivers a powerful mind-body experience and ignites your potential to look and feel your best on the inside and out. Shea has appeared on The Ellen DeGeneres Show and the Marilyn Denis Show; is a regularly featured health and fitness expert on Chicago's Windy City LIVE and The Best Ever You Network and is a frequent wellness commentator for other TV, radio, and print media and corporate events. Her SheaNetics® DVD/CD Mind-Body Collection offers dynamic, one-of-a-kind full body workouts and along with her new book Breakthrough, invites everyone to break through to a new beginning and the life you deserve.
Photo By: RD/Kirkland/Retna
Labels: GOSSIP, HEALTH FOODS, JAMES EDSTROM, VINCE VAUGHN

TIMES SQUARE Cherry Grove, Fire Island, NY, USA
Tuesday, January 05, 2010
Hollywood star Vince Vaughn has wed Canadian girlfriend Kyla Weber on Saturday. The very happy couple invited only their nearest and dearest friends and family to the intimate ceremony in Chicago, Vaughn's spokesperson told
People.com
. A friend of the couple tells the Web site, "They could not be happier."
Photo By: Sara De Boer/Retna
Thursday, October 08, 2009
Saturday, September 26, 2009
Actor Vince Vaughn is considering having a family with girlfriend Kyla Weber. Vince has had a long bachelor life, dating mean Jennifer Aniston for a year in 2006 before meeting and proposing to real estate agent Weber earlier this year. Now the 39 year old is finally ready to settle down, and is insisting his relationship with Weber has made him realise that he wants to have children. He tells
People.com
, "It's the first time that I really want to have kids."I've been very fortunate in my career, and my life has been about that for so long that you get bored of it. You're ready for your life to be about other people and other things."
Photo By: Sara De Boer/Retna
Monday, November 05, 2007
Vince Vaughn split from Jennifer Aniston to escape the spotlight.The 'Wedding Crashers' star, who parted ways with his 'The Break Up' co-star last December, decided to end the relationship because he didn't like the attention surrounding their romance.Vince said: "If you go out with someone famous, you'll get a certain level of attention around you but it was never something I focused on."And ultimately I do the best I can - I make my movies, and that's all you really can do. I've never done a lot of magazine covers. I don't go to a lot of premieres. I don't really cultivate that."For me I've always made the best movies I can make and then just walked away."The 37-year-old actor insists he has fond memories of their romance, despite the differences that came between them.Vince said: "For me, if you like someone, you like someone."I think when we're younger we all say, 'I won't date anyone like this or that.' And then you always end up dating someone like that. Because that's what love is. You can't really pick from a logical place."Life is made up of all those little moments, so it's nice if you have someone who you enjoy doing things with."
Tuesday, June 26, 2007
Jennifer Aniston has told her new man he is better in bed than her ex-husband Brad Pitt.The former 'Friends' actress is currently dating former builder Paul Sculfor and is said to be very impressed with his bedroom skills. A source close to Jennifer - who has also dated Vince Vaughn since divorcing Brad - told Britain's Star magazine: "She's left Paul in no doubt that he is the man for her. She even let slip that he's better in bed than either Brad or Vince!"The 38-year-old star has also tried to spice things up in the bedroom by buying saucy underwear from The Love Boutique in Santa Monica.The source added: "She spent nearly $800. on suspender belts, pants and stockings. Jen shopped online and then sent her assistant to pick the items up."As well as being dynamite between the sheets, Jen claims model Paul is very romantic. Her close friend Tiffany Laws said: "He bought Jen a huge bunch of flowers, then had chocolates and champagne delivered. She loved that. Jen goes by what her heart is telling her, and the initial indications are really good. She's not bothered about gossip. She will give him a chance to show he's the right guy for her."
Sunday, May 13, 2007
VINCE VAUGHN is hoping to buy one of the Church of Scientology's former Hollywood headquarters and set up his production office and a bar there.The Wedding Crashers star has made a reported $5.6 million (£2.8 million) offer to buy the property the Scientologists once shared with a real estate broker on Hollywood Boulevard. According to insiders, Vaughn plans to set up offices on the top floor, while becoming Los Angeles' latest celebrity bar owner by turning the downstairs area into a stylish bar.
Thursday, April 26, 2007
Vince Vaughn spent the night with Jennifer Aniston at the weekend, it has been claimed.'The Wedding Crashers' star - who split from the former 'Friends' actress in December - drove to her Hollywood Hills mansion on Saturday in his blue Pontiac Firebird convertible and stayed the night. A witness told

Us Weekly magazine:

"Vince didn't leave until 5pm the next day."A source close to Jennifer said: "If they hooked up that night, there is nothing wrong with it. She can trust him."A Vince source agreed: "It's no big deal if he stayed over. They are friends."In February, Vince - who dated Jennifer after her painful divorce from Brad Pitt - attended her 38th birthday party at Courteney Cox and David Arquette's home. A month later she attended his 37th birthday party at West Hollywood's Sunset Tower Hotel.'The Break-Up' co-stars allegedly split because Jennifer wanted Vince to commit to her and spend less time with his friends, but he was not ready to settle down.The couple have always said they would remain friends.
Tuesday, February 13, 2007
Ugly Vince Vaughn helped Jennifer Aniston celebrate her 38th birthday on Saturday. Vince was a guest at the former 'Friends' star's birthday party, despite splitting from Jennifer in December.The party was held at her best friend Courteney Cox's Beverley Hills home on Saturday although Jennifer's birthday was on Sunday. Vince, 36, stayed at the party for about two hours. Other guests included Sandra Oh, David Spade, Patricia Arquette and KathyNajimy. Since the split, Vince has continued to speak highly of Jennifer and said they intend to remain friends.The pair met on the set of 'The Break-Up' in 2005, and rumors quickly surfaced about a real life romance.Vaughn said at the time: "She's awesome. She has just a wonderful warmth and likeability about her."In late 2006, Vince and Jennifer were reported to have got engaged, but neither party ever confirmed the claims.
Friday, February 02, 2007
Vince Vaughn is desperately trying to get ex-girlfriend Jennifer Aniston back, his friends have claimed.Since spitting from Jennifer last October, Vince has allegedly been struggling to get over the former 'Friends' actress and has made several attempts to get her back. A source told

Look magazine

: "Vince is lonely as hell without Jennifer and he's regretting his decision to let her slip away. He's desperate to get her back."Vince has reportedly felt worse about the break-up since finding out Jennifer, 37, wants to adopt a child on her own.The source added: "Vince feels responsible for Jennifer's situation, because without him she's being forced to go down the single mother route because of her age."He really does want to get married and have kids. It kills him to think about Jennifer bringing a child home on her own and taking on the whole responsibility by herself."The pair began dating after meeting on the set of 'The Break-Up'.
Shes Better Off Without That Fuck !
His Personal Grooming Sucks !
Wednesday, January 24, 2007
Vince Vaughn is getting over his break-up from Jennifer Aniston by reportedly enjoying orgies in hotel rooms. Since his relationship with the former 'Friends' actress ended in December,the comic actor has been partying hard with a series of beautiful women. According to National Enquirer journalist Mike Walker, the morning after one particularly wild night of partying, Vince was seen escorting a trio of ladies from his hotel room. Mike told DJ Howard Stern: "Not one, not two, but three women!"Meanwhile, Jennifer has not been coping so well with the split, and the stress has allegedly caused her to start sleepwalking. Friends of the 37-year-old actress claim she also suffered a bout of sleepwalking when her marriage to ex-husband Brad Pitt began to disintegrate. One pal said: "She had the same problems when things started going wrong during her marriage to Brad."One time he freaked out because she disappeared for an hour-and-a-half."
Wednesday, October 11, 2006
According to published reports,Vince Vaughn was seen publicly cavorting with a mystery blonde just weeks after dumping Jennifer Aniston. The 'Dodgeball' actor arrived at the after show party of '24 Hour Plays', a London theatre production he had appeared in, with a stained sweatshirt and his flies undone and then began canoodling with the girl.Vince called time on his relationship with 'Friends' star Jennifer, 37, just before he flew to the UK capital last month.The 36-year-old star is in London filming his new Christmas comedy 'Joe Clause' and took part in charity event '24 Hour Plays' at the Old Vic theatre with Kevin Spacey and Brooke Shields on Sunday.The performances raised around $200.000 for the theatre. Jennifer and Vince met on the set of romantic comedy 'The Break-Up' shortly after Jennifer was dumped by ex-husband Brad Pitt for Angelina Jolie. During their time together Vince and Jennifer continually denied they were an item but then moved in together in Chicago and there were rumours of a proposal in June. But the relationship is thought to have been a rocky one as the pair were constantly arguing over the clash between Jennifer's healthy, sophisticated lifestyle and Vince's love of drinking, watching sport and partying.
Thursday, October 05, 2006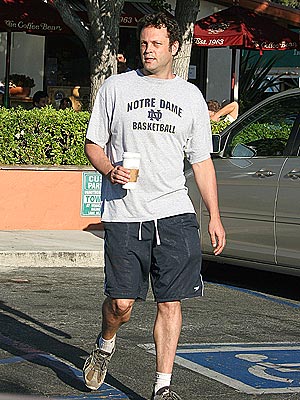 All's not well in Jennifer Aniston's love life, for the former 'Friends' star has reportedly been dumped by beau Vince Vaughn. According to US Weekly magazine, Vaughn called a halt to the couple's relationship in an emotional phone call at the beginning of September - before he left to film his latest movie 'Joe Claus' in London.The 36-year old actor then cancelled plans for Aniston to visit him in the British capital.Vaughn allegedly told an insider on September 13 that though the news had not hit the media as yet, the two had already split."It's not common knowledge, but we're not together anymore. We've split up," the Daily Mail quoted the actor, as telling the insider. Pals of the actor, who even asked Aniston to marry him in June, said that Vaughn had called off the relationship after seeing how "needy" she was."Vince eventually saw how needy she is, and it scared him off," a pal told the magazine. "Jen lives in a crazy world with all the media. It's just not his thing," another friend said.A friend of Aniston's also confirmed to US Weekly that the couple were definitely not together anymore. "They're 100 per cent done," the pal said.